This year's Artist in Residence provides an adventurous musical canvas for her chosen musicians and the audiences. Fiona Talkington, presenter of BBC Radio's award winning «Late Junction» programme, returns to the festival she loves and reveals something of Sidsel's way of working, and her first two concerts.
The choice of Artist in Residence is hugely important for the Molde Jazz Festival. That role of honour includes legendary names from abroad such as Keith Jarrett, Chick Corea, Eubie Blake, Pat Metheny for example, and musicians from the Norwegian jazz scene including Terje Rypdal, Nils Petter Molvaer, Arve Henriksen, Paal Nilssen-Love and Jon Balke.
The role brings with it great acclaim but it also brings  the pressure of expectation, of fulfilling the many needs a big festival has, organisationally and creatively. This year's choice of Sidsel Endresen came as no surprise to many of us. Her fearless hard work over the years, her engagement with the Norwegian music scene, her uncompromising commitment to making high quality music, her tireless schedule of touring and championing the Norwegian scene abroad, and her passionate and generous support of young musicians through her teaching work are simply part of who she is, but to the rest of us, whether audiences, promoters or fellow musicians, she is an icon, a leader, an enabler.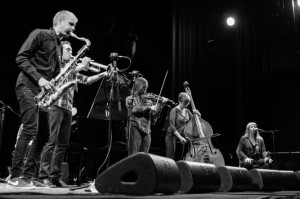 On Monday night she presented the first of her projects for Moldejazz. her sextet in which she was joined by Christian Wallumrød on piano, Espen Reinertsen on sax, Eivind Lønning playing trumpet, violinist Vilde Sandve, bassist Inga Margarethe Aas and with Asle Karstad on sound. If danger and risk are part of Sidsel's creative environment, so, just as importantly, are trust and respect. This sextet first played together in November 2012 at Victoria in Oslo as part of Sidsel's 60th birthday celebrations. The second time they played was here in Molde this week. It was intense, powerful, challenging yet witty too. There were no 'numbers', they performed for over an hour absorbed in the music, listening intently, drawing the audience in to this high octane concentration.
Sidsel has a powerful presence on stage both for the audience and the other musicians,  but she is not some leader figure in the front, she sits to the side, not quite in the wings! She has the utmost respect for them all as outstanding improvisers: Christian is a long standing musical partner of hers, Espen and Eivind she got to know through their duo Streifenjunko, drawn to their work through their "attention to detail, working rather contrary to the way people normally work on those instruments, focusing on the sound potential". Vilde and Inga met Sidsel when they were students at the Oslo Conservatoire. There's no agenda, it's a "taboo free zone" as Sidsel  describes it: "the only thing that was said before we went on stage was 'don't be considerate, follow your own impulses' ".  Sidsel's belief in the ensemble simply blossomed here in Molde.
Sidsel had talked about using instruments in unexpected ways, and, for many people, that describes how she uses her voice. Developing her vocal styles and techniques has been a gradual process, not discarding her work with more  'pre-organised' material, but  gradually moving into areas with different freedoms and possibilities, wanting to expand her role, not just carrying the lyrics.
So Sidsel's approach to being Artist in Residence serves in one way to help us understand her processes  and, by doing that, to show us how this can work in different ways with different musicians. Her second concert with the Merriwinkle trio of Christian Wallumrød and Helge Sten was dynamically stunning, combative and playful and the audience's demand for an 'encore' showed how engaged they were with Sidsel both as an artist and person they admire. And if the first concert had seen a gap of 18 months since the performers had played together, this Merriwinkle concert was the first time they had played in 8 years!
Still to come this week we're looking forward to Sidsel's more recent and hugely successful duo with Stian Westerhus (which she describes as bringing rock and roll into her music, falling for Stian's immense sense of timing), and her final collaboration with co-directors of the Punkt Festival Jan Bang and Erik Honoré where the live-remix situation creates, once again, that all so important 'danger zone'.
Festivals bring freedoms, culturally and socially, and having Sidsel Endresen as Artist in Residence is such a fine example of how freedom can be cutting-edge as well as a celebration of the Norwegian music scene.
Fiona Talkington
[Fiona Talkington presents Late Junction on BBC Radio 3, was curator of conexions for Nasjonal Jazzscene, and Scene Norway for Kings Place in London]
photo: Camilla Grünewald / fireflate.no